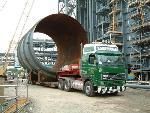 Heavy transport remains our core business and we are proud to offer a full door to door service to our customers. This includes full route and site surveys where necessary and all Police, Highways and Local Authority notifications and permits as well as all escorts where required.

As you will see from the pictures on our site, we use the latest equipment making light work of the most demanding of tasks.

We are also able to offer a 'traction only' service and our highly experienced drivers are fully trained in the use of all types of hydraulic and steering trailers. Our tractor units are fitted with both heavy duty 3 1/2" couplings as well as the standard 2" coupling allowing us to pull all types of trailers. This service is of particular interest to customers wishing to ship heavy trailers into the UK unaccompanied.


By combining our experience in heavy transport with the extra heavy equipment of our various business partners we are able to offer a full Special Projects service at a cost effective price. Please take a look at our Special Projects pictures page.


As well as heavy transport we can also offer general and flatbed haulage as well as standard trombone trailers.


For customer wishing to import/export anything from one load to a full factory we can supply a full daily ro-ro trailer service to and from mainland Europe. By shipping your goods on our trailer, extra handling is avoided and costs are kept to a minimum.


For storage, workshop and escort services please click the buttons on the left.

ALL GOODS CARRIED/STORED UNDER RHA OR CMR CONDITIONS (COPIES AVAILABLE ON REQUEST).